**********
Go to newsletter page , column on the right
for draft of meeting minutes of 10/17/2017
**********
Fellow ATVers. The bridge at Church Ave. in Frenchville will be closed temporarily until repairs can be made. Church Ave. from the bridge to corner of Joseph Dubois is a designated ATV Access Route. You will be able to get to your destinations using that route. The repairs to the bridge will start this Wednesday morning (October 11th) and will be completed as soon as possible. Barriers will be installed, please respect them. If you have any questions you can contact me at 543-6048 or 436-0953.
Bob Marquis - President, Frenchville ATV Club
********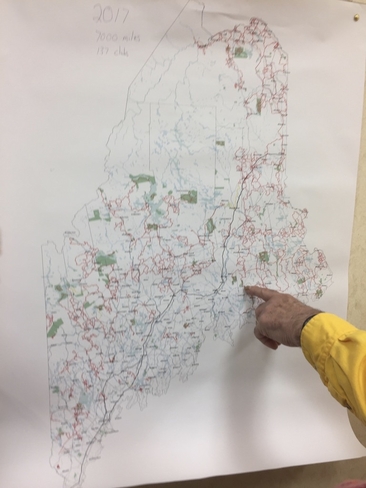 2017, 7000 miles, 137 clubs, ATV Maine Annual Meeting in April...
posted 04/28/2017
***********
Membership dues are starting to come in. Thanks goes to all those who joined early!
If you want to join, but need an application,
*********
Adirondack Building on Heritage Trail, Fort Kent / St. John townline
**********
New 2017 Membership applications are out!!
PDF may take a while to download.
Or go to our Application Page and try different options.
**********
Film featuring activities
will promote regional tourism
**********
ATV Maine Officers and Officials
posted May 24th, 2016
******
Find all previous meeting minutes on
NEWSLETTER Page
posted Aug 19th**********

Click on thumbnail to go view
HIGHLIGHTED
map of Valley ATV Riders 2014 trails
- from DOC
********
Signs





**********

Please do slow down, keep dust down, keep noise down