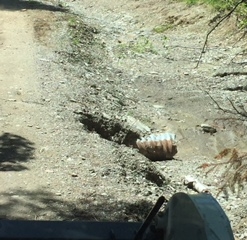 Someone did some work on culverts for us. Thank You!
**********
TRAIL BIKES!!
Please cut excessive noise on Charette Hill by Theriault's horse pasture,
horses are easily frighten! Or we will all loose the trail!!
PLEASE NOTE:
Charette Hill Road, beyond the tarred section to Frenchville
is NOT opened to ATV traffic.
Game Wardens will be watching and giving summons to offenders
.
**********
posted March 14, 2018
**********
7000 miles, 137 clubs,
ATV Maine Annual Meeting in April 2017
posted 04/28/2017
********
ATV Maine Officers and Officials
posted May 24th, 2017